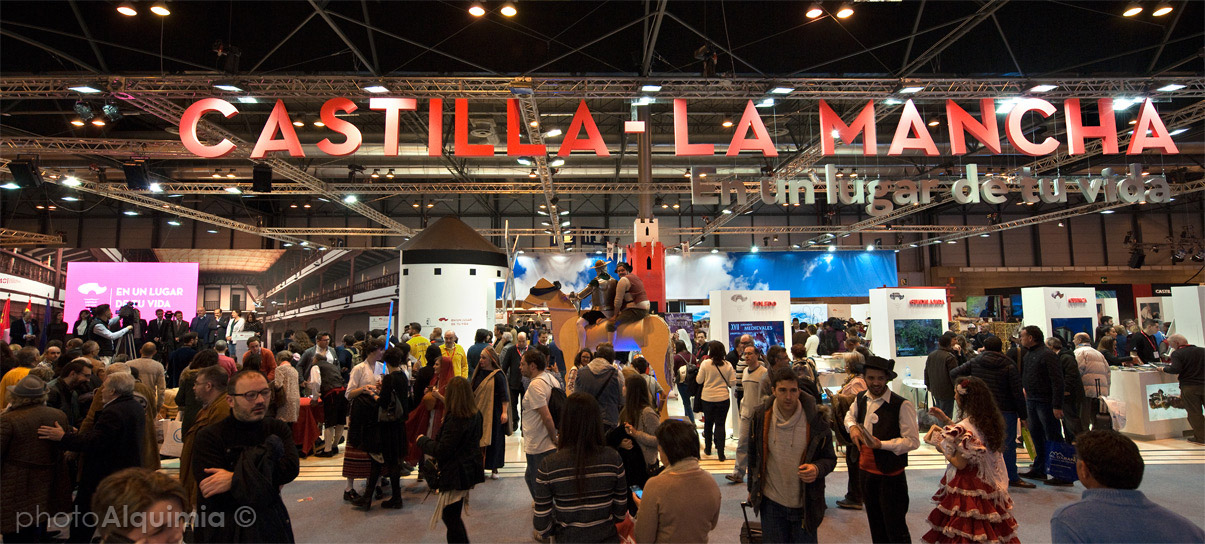 The Castle / El Castillo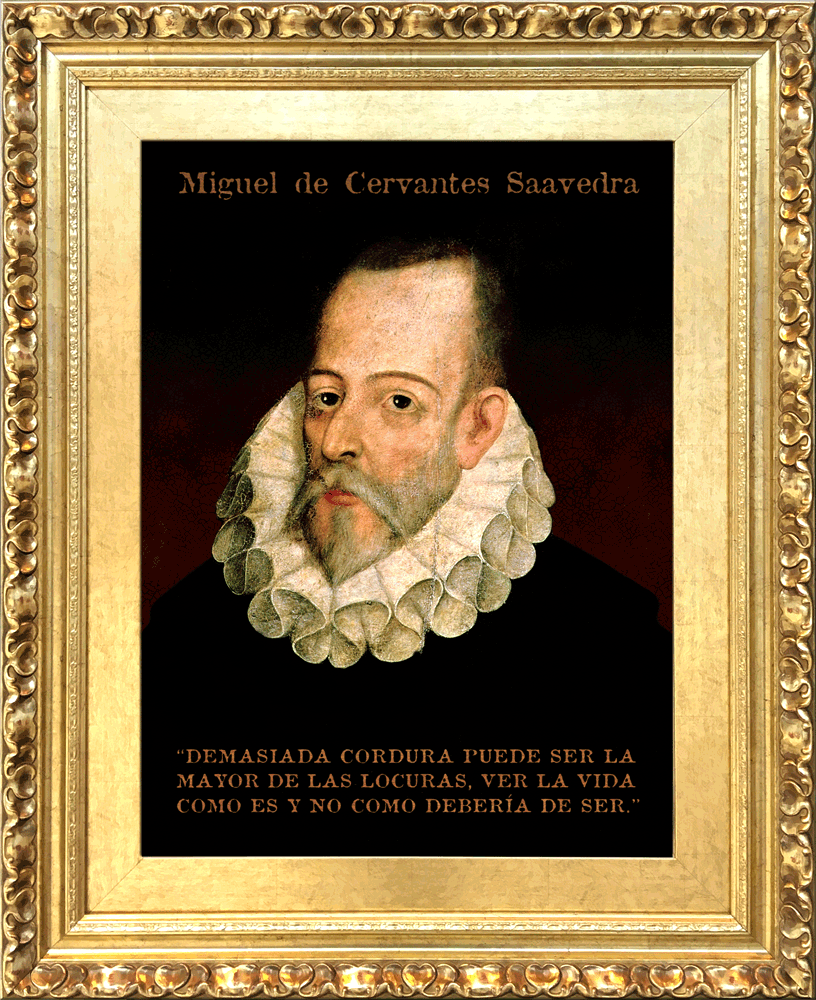 As a claim, in the welcome area to the stand, an animated picture of the famous portrait of Miguel de Cervantes, by the painter Jauregui, was located, where one could read the quote of the writer who best conveys the essence of Don Quixote: "Too much sanity may be madness. And maddest of all, to see life as it is and not as it should be."
-------------------------------------------
A modo de reclamo, en la zona de acceso y de bienvenida al stand, se ubicó un cuadro animado del famoso retrato de Miguel de Cervantes, obra del pintor Jauregui, donde se podía leer la cita del escritor que mejor transmite la esencia del Quijote: "Demasiada cordura puede ser la mayor de las locuras, ver la vida como es y no como deberia de ser"


Looking for a solution to save the only column located in the access to the stand, a scenographic recreation of a pentagonal castle was carried out, which would serve as a support for a video installation on each of its faces. On the front side was the animated Cervantes picture and surrounding this, 4 monitors with video recordings of inhabitants of the region at real size , who through gestures, encouraged to visit it.

-------------------------------------------
Buscando una solución para salvar la única columna ubicada en el acceso al stand, se llevó a cabo una recreación escenográfica de un castillo de planta pentagonal, que serviría como soporte para una instalación de video en cada una de sus caras. En el lado frontal se ubico el cuadro de Cervantes animado y rodeando a este, 4 monitores con grabaciones en video a tamaño real de habitantes de la región, que a través de gestos, animaban a visitarla.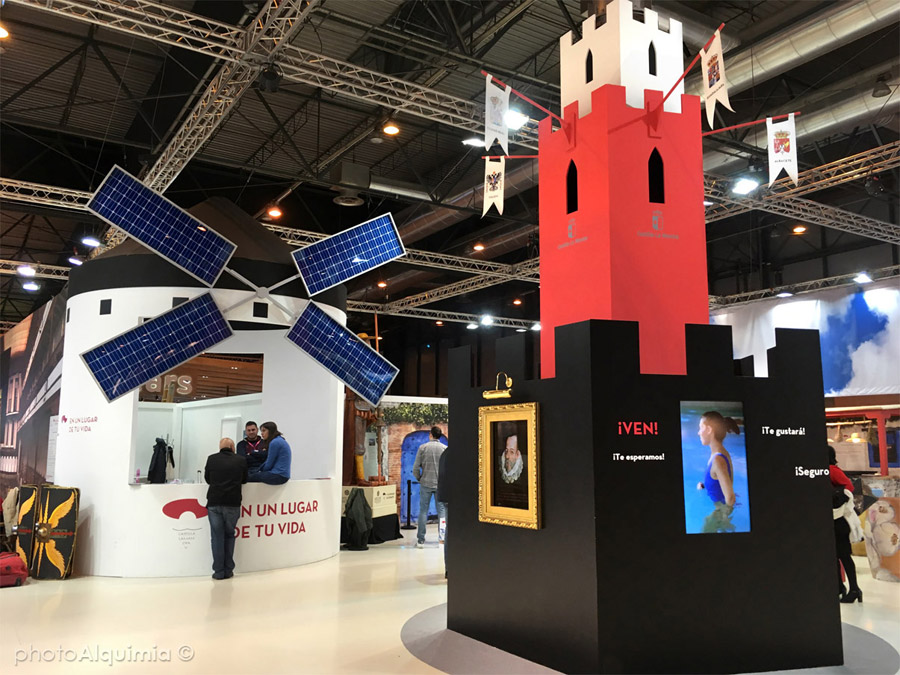 The Windmill / El Molino
Visual icon of the architecture of Castilla-La Mancha. This unique photovoltaic windmill transmitted the commitment to renewable energies, as well as serving as a TV studio set for the live broadcast from the fair.

-------------------------------------------
Icono visual de la arquitectura de Castilla-La Mancha. Este singular molino de aspas fotovoltaicas transmitía la apuesta por las energías renovables, además de servir como plató de televisión para la emisión en directo desde la feria.


The Virtual Farm / El Corral Virtual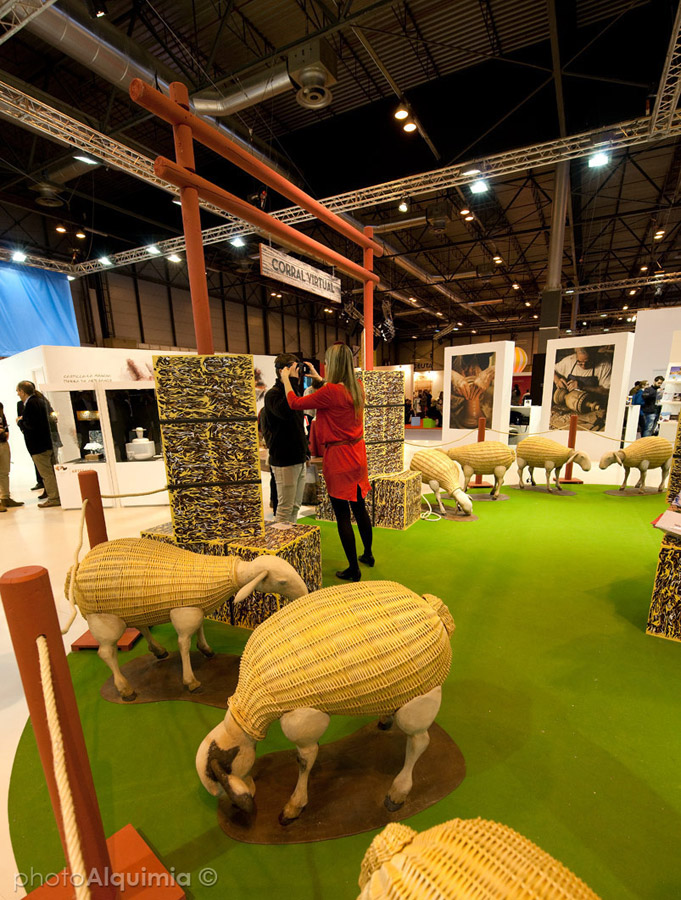 Scenographic creation of a farm where an experience of virtual reality and immersive video unfolded. The sheep are made by artisans Antonio Martinez (wicker) and Neil Callagan (wood carving). The rocking horses are made by the craftsman carpenter Facundo Blanco. These artisanal handcrafted pieces have been designed by the photoAlquimia team.

-------------------------------------------
Creación escenográfica de un corral donde se desarrollaba una experiencia de realidad virtual y video inmersivo. Las ovejas están realizadas por los artesanos Antonio Martínez (mimbre) y Neil Callagan (talla en madera). Los caballos balancines están realizados por el artesano carpintero Facundo Blanco. Estos elementos de factura artesanal están diseñados por el equipo de photoAlquimia.


Foods from Castilla-La Mancha / Alimentos de Castilla-La Mancha
Three-dimensional installation for the value enhancement of food that comes from the land of Castilla-La Mancha. For its realization was used real earth of the region, the plants were realized in iron by the master blacksmith Ramón Recuero and the background mural was composed digitally by Pilar Balsalobre with more than 30 photographs of the region. All elements of the installation have been designed by the photoAlquimia team.

-------------------------------------------
Instalación tridimensional para la puesta en valor de los alimentos que surgen de la tierra de Castilla-La Mancha. Para su realización se utilizó tierra real de la región, las plantas se realizaron en hierro por el maestro forjador Ramón Recuero y el mural de fondo se compuso digitalmente por Pilar Balsalobre con más de 30 fotografías de la región. Todos los elementos de la instalación están diseñados por el equipo de photoAlquimia.


"Dulcinea" Inn / Venta Dulcinea
Graphic recreation of a village inn at Castilla-La Mancha, inspired by the graphic style of a travel watercolor notebook.

-------------------------------------------
Recreación gráfica de un pueblo manchego y su venta, inspirado en el estilo gráfico de un cuaderno de acuarelas de viajes.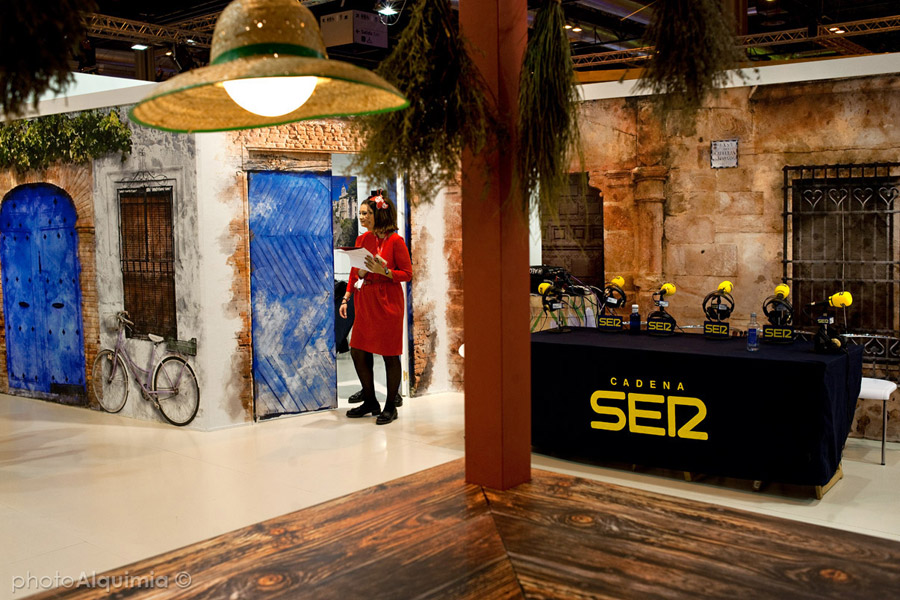 Digital Wall Art
Wall art in Tastings Area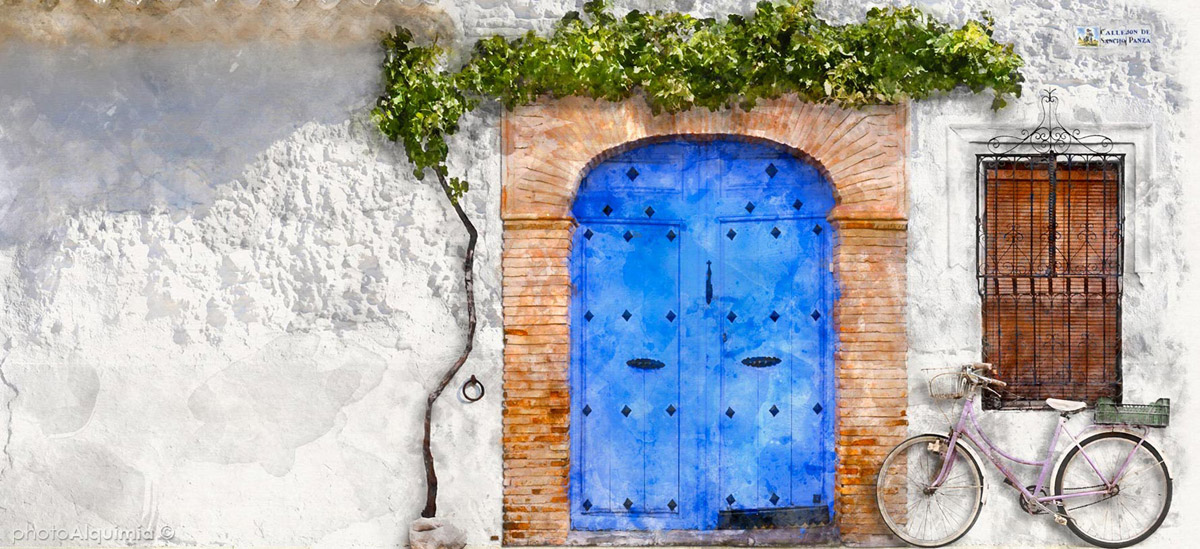 Wall art in the Windmill area
Wall art in the area of presentations and radio offices.
AWARD
FIRST PRIZE for the best design of institutional stand at FITUR 2017
Creative direction, artistic direction, photography and graphic design of the stand of Castilla-La Mancha for the International Tourism Fair FITUR 2017. IFEMA. Madrid.
With the claim "Somewhere in your life" and on an area of 1300 m2 an experiential tour for the visitor was designed, being gastronomy, local products, new technologies and sustainability the conceptual axes of the project.
Dirección creativa, dirección artística, fotografía y diseño gráfico del stand de Castilla-La Mancha para la Feria Internacional de Turismo FITUR 2017. IFEMA. Madrid.
Con el título "En un lugar de tu vida" y sobre una superficie de 1300 m2 se diseñó un recorrido experiencial para el visitante, siendo la gastronomía, los productos de la tierra, las nuevas tecnologías y la sostenibilidad el eje conceptual del proyecto.
FIRST PRIZE for the best design of institutional stand at FITUR 2017. IFEMA. Madrid. Spain.