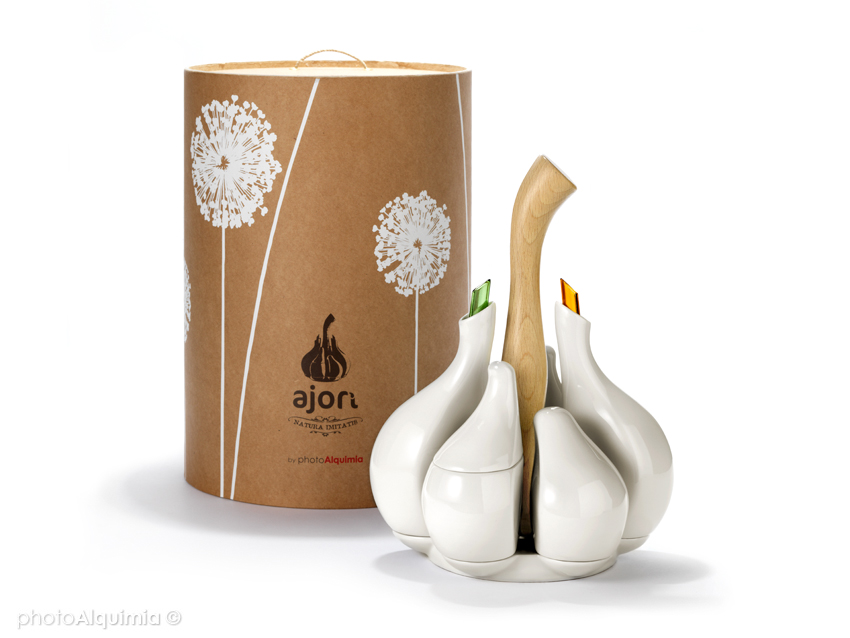 Prototype
Ajorí is a creative solution for organize and store seasonings, spices and various culinary condiments, inspired by the elegant form of the bulb of garlic . This kitchen accessory holds six containers, designed to contain different products used for the seasoning of several dishes, adapting to the different culinary traditions of each country.
Ajori is the first project of a line of research of functional design entitled "NATURA IMITATIS", from the Latin, imitating nature. Created only with natural materials and using a mixture of industrial and artisanal processes, Ajorí is an eco-friendly product, respectful of our planet. The packaging is inspired by the skin of garlic and only natural and biodegradable materials are used for manufacturing.
Its elegant organic design, make it a sculptural piece, resulting of an excellent ornament to reflect and a conversation starter around a table, not to mention that by its garlic shape, it can be an excellent protector of our home or business against bad vibrations.
Ajorí es una solución creativa de organización y almacenamiento de aderezos, especias y diversos condimentos culinarios, inspirado en la forma de la cabeza de un ajo. Este accesorio de cocina ordena seis recipientes destinados a contener diferentes productos usados para aliñar diversos platos, adaptándose a las diferentes tradiciones culinarias de cada país.
Ajorí es el primer proyecto de una línea de eco-diseño funcional titulado "NATURA IMITATIS", del latín, imitar la naturaleza. Fabricado únicamente con materiales naturales y utilizando una mezcla de procesos industriales y artesanales, Ajorí es un producto ecológico respetuoso con nuestro planeta. El packaging se inspira en la piel de un ajo, y para su fabricación se utilizan únicamente materiales naturales y biodegradables.
Su elegante diseño orgánico de formas puras, la convierten en una pieza escultórica, resultando un excelente ornamento reflexivo, un iniciador de conversación alrededor de una mesa, sin olvidarnos que por su forma de ajo puede resultar un excelente protector de nuestro hogar o negocio frente a las malas vibraciones.
Inspiration
"We observed, peeled and cut several bulbs of purple garlic. We were impressed by the elegance of its lines defining each piece, the peculiar texture of its skin, and diversity of forms. In front of our eyes appeared a set of containers arranged on a tray, around a stem or handle. Considering the diversity of options in design that we wanted to propose, this one showed with total clarity, the functionality that we were looking for: a cruet in a form of garlic."
"Con mucha paciencia, observamos, pelamos y cortamos varias cabezas de ajo morado. Nos impresionó la elegancia de líneas puras que definen la forma de un diente, la textura pulida de su piel, la diversidad de formas. Ante nuestros ojos apareció un conjunto de envases dispuestos alrededor de un tallo, asentados sobre una bandeja. Entre las diversas propuestas de diseño que nos sugería este elemento natural, una mostraba con total claridad la funcionalidad que andábamos buscando: una vinagrera con forma de ajo"
SIZE:

Piece: 170 mm (max) x 230 mm (H)
Packaging: 185 mm, 265 mm (H)

TECNICAL DATA:

Ceramic. Porcelain 1400º off-white colour.
Glass. Anti-drip cannulas hand carved in borosilicate glass, green and topaz color.
Wood. Wooden handle hand-carved in beechwood.
Anti-stain treatment, touch of wood.
Platinum silicone. Plugs and gaskets.
Eco-Packaging for Gift. Handmade gift box with 100% recycled cardboard. Serigraphic printing.