PATANEL, the craft beers from Carabanchel.
Malt, yeast, hops and neighborhood... lots of neighborhood.
Driven by a passion for beer and love for their neighborhoods, four Carabancheleros joined forces to create PATANEL, a brand of craft beers that also promotes and collaborates in social, educational and artistic initiatives to revitalize the neighborhood of Carabanchel.
Logo
Label design
We designed a label for each of the PATANANEL beers. All the labels have the same style but the colors are different to differentiate the flavors: Golden, Red Ale, Ipañel, Black and Wheat. To promote the neighborhood, each of the different labels shows architectural landmarks of Carabanchel, such as the roof Palacio Vistalegre, the entrance to the Colonia de la Prensa, the Hermitage of Santa María la Antigua, the Puente de Toledo and the Hermitage of San Isidro.

Display
Web photography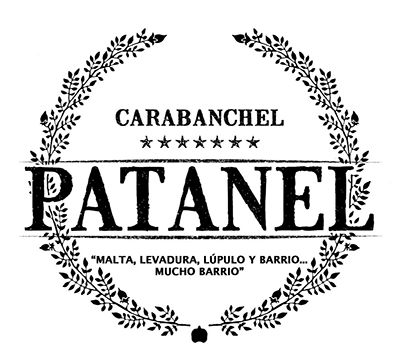 Design of branding, labels, display and web photography for PATANEL the brand of craft beers from Carabanchel.
As a point of inspiration for the logo, we started from the idea of the etymological origin of the word "Carabanchel" which comes from the word Garbanzal, land of chickpeas, since the "carabancheles" were the main farmlands of the capital until the 50s and 60s. This is the explanation for the presence of a chickpea at the base of the plant's crown, which expresses the link between this beer and its neighborhood of origin. The presence of the seven stars supports this relationship, being seven of them the neighborhoods of the Carabanchel district.
For the label design, we looked for a classic graphic design in line with the logo, which differentiates each of the beers by their color tones and the presence of emblematic places of the neighborhood.
As this brand of beer is colloquially called "La Pata Negra de Carabanchel", we created also a display that resembles a ham holder.