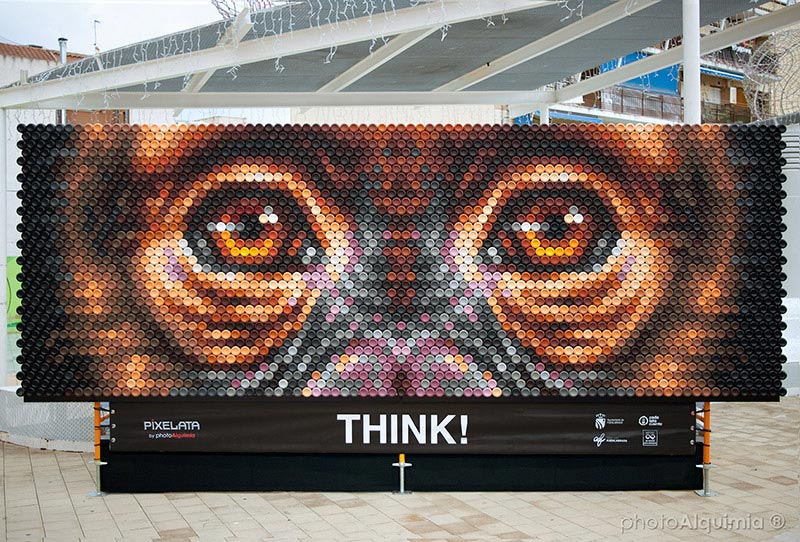 PIXELATA, sustainable and participatory art
This is a Recycled Art installation, made with the pixelation technique, painting on recycled beverage cans (pixelata), developing a 190 x 535 cm canvas. and being necessary 3,000 recycled cans for its realization, the same ones that are consumed in Spain every 10 seconds.
The reason for working on this material is due to the infinite recycling capacity that an aluminum can has, being an excellent example to transform the concept of garbage into a valuable resource and understand concepts such as recycling and the circular economy.
The piece is totally sustainable and recyclable. The day it was decided to remove it, it would only be necessary to melt it to get 50 kg of aluminum. This piece has been possible thanks to the participation of many residents of the Madrid neighborhood of Carabanchel in recycling the 3,000 cans needed.


Concepto Para la mayoría de nosotros, un Chimpancé (Pan troglodytes) no deja de ser un mono, un animal mucho menos evolucionado que el ser humano y muy distinto de nosotros en el plano intelectual, emocional, anatómico y espiritual. El Chimpancé vive en armonía e íntimamente conectado con el resto de las criaturas vivas del ecosistema natural donde habita, viviendo en equilibrio y permitiendo que el ecosistema sea sostenible a largo plazo. El ser humano (Homo sapiens) parece funcionar de manera opuesta al Chimpancé, viviendo desconectado de la naturaleza, de la cual depende para su supervivencia. El Planeta y el resto de los seres vivos que lo habitan parecen estar a disposición suya, siguiendo un modelo de vida que además se ha vuelto insostenible, condicionando su propia supervivencia como especie. "El ser humano comparte el 99% de sus genes con el chimpancé. Siendo tan cercanos… ¿cómo podemos vivir de forma tan diferente? "Quizá ha llegado el momento de tomar conciencia, reconectar con lo que realmente somos y empezar a pensar en una forma de vida en armonía con la naturaleza.








PIXELATA is a project to raise awareness towards recycling, citizen participation and the circular economy, through art, design and crafts, created in 2017 by photoAlquimia studio. THINK! is a recycled art installation made with 3,000 beverage cans that shows the pixelated image of the gaze of a chimpanzee, and aims to generate in the viewer a reflection on our way of life so unsustainable, compared to that of the chimpanzee that is totally sustainable. With this Pixelata, the City Council of Fuenlabrada, in collaboration with Every Can Counts Spain, inaugurated Christmas and will remain on display in the Plaza del Tesillo in Fuenlabrada until January 10, 2022.
PIXELATA AWARDS


IDA Design Awards 2017
2 GOLD Prizes: "Design for Society" category, and "Design for Sustainability" subcategory. Los Angeles, USA. 2018.
Bienal Iberoamericana de Diseño 2018 (BID_18)
Mention at "Design and Citizen Participation/ UCCI" category. Madrid, SPAIN. 2018.

TECHNICAL DATA:

Title: "THINK"
Description: Recycled Art piece made on a canvas of recycled beverage cans. Image created with pixelation technique, in large format.
Measurements: 190 x 535 cm. (Approx. 3,000 recycled beverage cans))
Color: Primer base on aluminum. Graphic palette of 37 colors. Montana Colors 94.
Weight: 4,5kg /m2. Total 50Kg.
Authors: Pilar Balsalobre & Carlos Jiménez (photoAlquimia Studio)


PIXELATA ® 2017
INDUSTRIAL DESING PIXELATERO ® CEE 2017