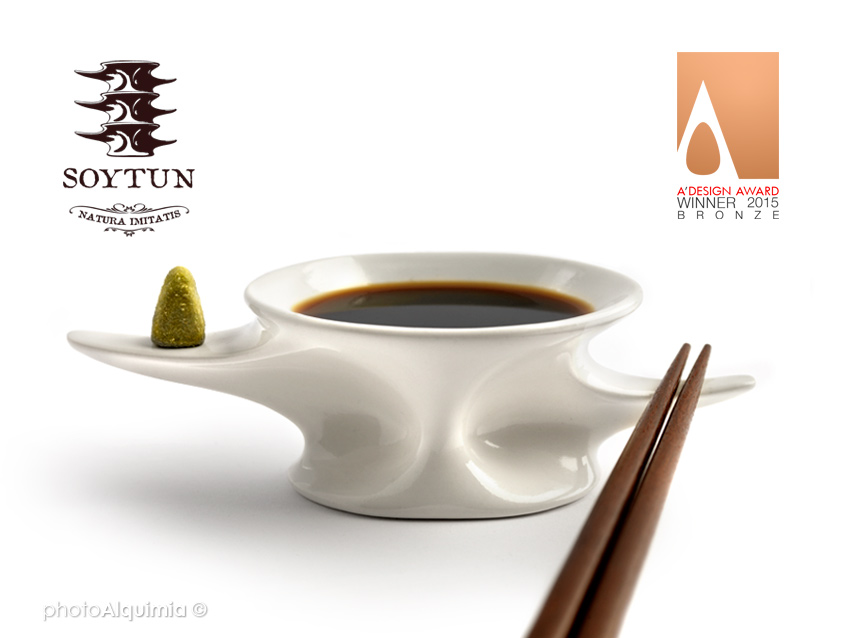 Inspiration
"An unexpected finding, or rather a present that the sea brought us. A vertebra of a tuna found in a walk along the shore of a beach in Cadiz. The shape of this fishbone fascinated us, a whole design of natural engineering. We patiently studied the architecture of the buttresses of the vertebra as well as the cones where are joined together the different parts of the fishbone. Through a complex interpretation, we arrived at the final shape of the design."
In the Strait of Gibraltar and for a few months a year, is caught in the almadrabas one of the largest and most coveted worldwide tuna, bluefin tuna (Thunnus thynnus). Most of these tunas are exported from Cadiz to Japan for tasting uncooked at the best restaurants.
"Un hallazgo, o más bien un regalo que nos hizo el mar, una espina de atún encontrada en un paseo por la orilla de una playa de Cádiz. La forma de la espina nos fascinaba, todo un diseño de ingeniería natural. Estudiamos pacientemente la arquitectura de los contrafuertes de la vértebra, así como los conos óseos donde se unen las distintas espinas entre si, formando la raspa del pez. A través de una compleja interpretación, llegamos a la forma final del diseño."
En el estrecho de Gibraltar y durante unos pocos meses al año, se pesca en las almadrabas uno de los atunes más grandes y codiciados de todo el mundo, el atún rojo (Thunnus thynnus). La mayoría de estos atunes se exportan de Cádiz a Japón para su degustación en crudo en los mejores restaurantes.
Sketches

Soytun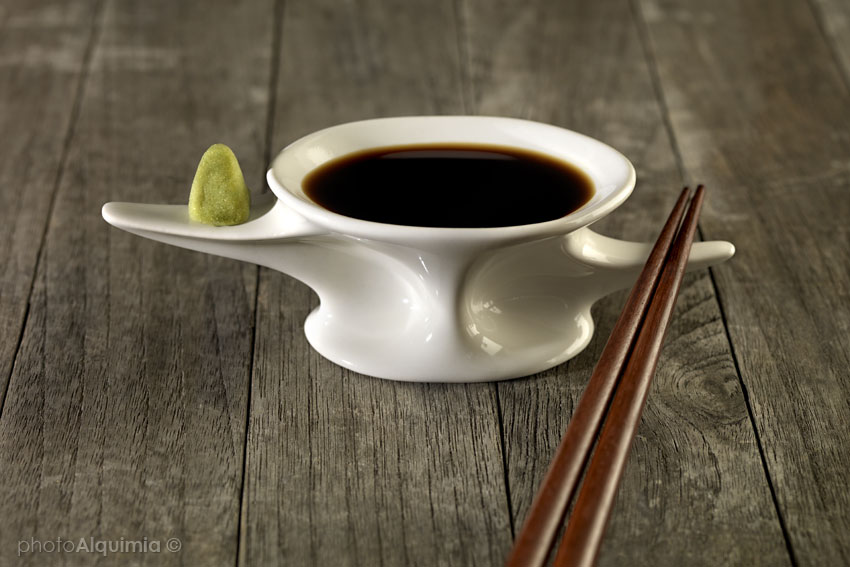 Packaging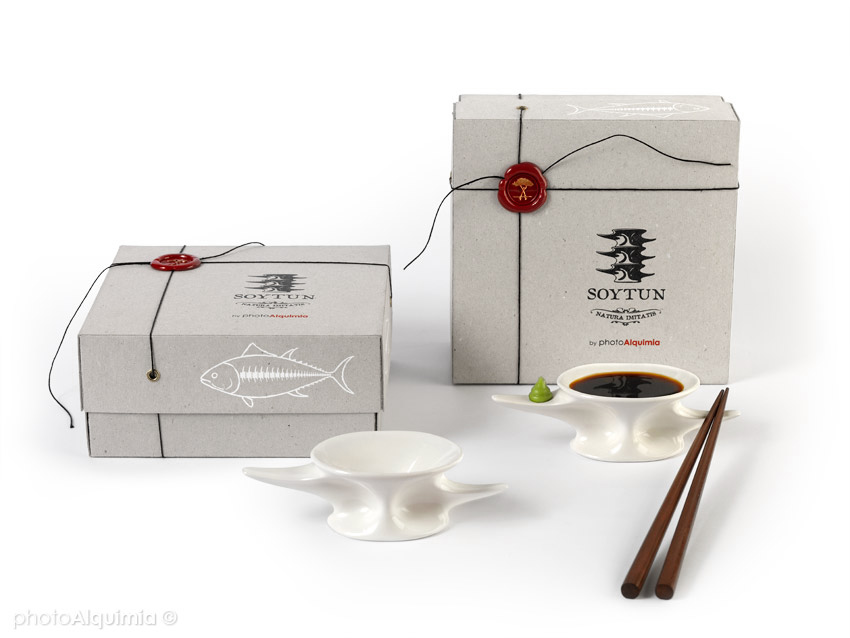 Click on this image to read the design book.
Process
Juan Carlos Albarrán (CENTRO CERÁMICO TALAVERA) Ceramic craftsman
SOYTUN is a ceramic piece designed for the increasingly common tasting of the various forms of presentation of raw fish such as sashimi, sushi, tartar... etc. This design serves to contain soy sauce, also has a place for spicy mustard (wasabi) and finally has a part to let chopsticks when they are not used.
For its manufacture, we use enamelled stoneware, attached to a painstaking craft production. In the area of the base, each SOYTUN is signed and numbered by hand.
The packaging design is inspired by the ancient cardboard boxes of natural history museums, which in Victorian times were used to contain the zoological and botanical specimens collected in the various scientific expeditions. The gift box is made entirely of recycled cardboard, making it a singular example of eco-packaging, fully respectful with the environment.
SOYTUN is the third project for a line of eco-design functional, called "NATURA IMITATIS", from the Latin, imitating nature. For its particular design is an elegant sculptural piece when is not used, or an element that generates at the table a reflection on the logic of its form and function.
SOYTUN es una pieza cerámica diseñada para la degustación cada vez más habitual, de las diversas formas de presentación de pescado crudo, tales como sashimi, sushi, tartar… etc. El diseño sirve por un lado para contener la salsa de soja, por otro dispone de un lugar para la mostaza picante (wasabi) y finalmente de una zona para reposar los palillos cuando no se utilizan.
Para su fabricación empleamos gres esmaltado, unido a un esmerado trabajo de producción artesanal. En la zona de la base, cada SOYTUN va firmado y numerado a mano.
El diseño del packaging se inspira en las antiguas cajas de cartón de los museos de historia natural, que en la época victoriana se utilizaban para contener los especimenes zoológicos y botánicos que se recolectaban en las distintas expediciones científicas. El estuche para regalo está realizado íntegramente en cartón reciclado, por lo que resulta un singular ejemplo de eco-packaging, totalmente respetuoso con el medio ambiente.
SOYTUN es el tercer proyecto para una línea de eco-diseño funcional llamada "NATURA IMITATIS", del latín, imitar la naturaleza. Por su particular diseño resulta una elegante pieza escultórica cuando no se usa, o como un elemento que genera en la mesa una reflexión acerca de la lógica de su forma y de su función.
DESIGN COLLECTION

... comes from Latin and means imitating nature.
Throughout millions of years, nature has perfected its best designs to perpetuate a balanced life, by maintaining its rich diversity and expressing its beauty in all its creatures.
Man had not yet been born...
NATURA IMITATIS is a collection of designs inspired by nature and are charged with a special kind of energy that transforms them into live objects with an enchanting story to tell. A story that says something more than meets the eye. These soulful objects are made for those who feel the need to reconnect with nature, beauty and restore humane values.
Soytun is part of this collection and has been created by skilled craftsmen who use natural materials. All pieces are recyclable and respectful with our environment.
... del latín: imitar a la naturaleza.
A lo largo de millones de años, la naturaleza fue perfeccionando sus mejores diseños para perpetuar una vida en equilibrio, manteniendo su rica diversidad y expresando belleza en todas sus criaturas.
El ser humano aún no había nacido…
NATURA IMITATIS es una colección de diseños inspirados en la naturaleza, que cargados de una energía muy especial, se transforman en objetos vivos, con alma y con una historia que contar que va más allá de lo que los ojos pueden ver. Esta línea de diseño se dirige a personas de todo el mundo que sienten la necesidad de reconectar de nuevo con la naturaleza, con la belleza y con valores más humanos.
Soytun forma parte de esta colección de diseño. Para su fabricación utilizamos materiales naturales y el sabio conocimiento de manos artesanas. Todos sus elementos son reciclables y respetuosos con el medio ambiente.

AWARDS



| | Nomination Award by Shenzhen Global Design Award 2018 (SDA) |
| --- | --- |

| | Selected from Spain in "Industrial design / product" category by Bienal Iberoamericana de Diseño 2016 (BID_16) |
| --- | --- |

| | Selected as a Good Practice in "Spaces, products and services already in use" category, by International Design For All Foundation 2015. |
| --- | --- |

| | Bronze A' Design Award Winner in Bakeware, Tableware, Drinkware and Cookware Design Category by A' Design Award and Competition 2015 |
| --- | --- |

TECHNICAL DATA:

Ceramic. Enameled stoneware.
Eco-Packaging for Gift. Handmade gift box with 100% recycled cardboard. Serigraphic printing.
Design book. Four-Colors Offset, Soft cover, 60 pages.