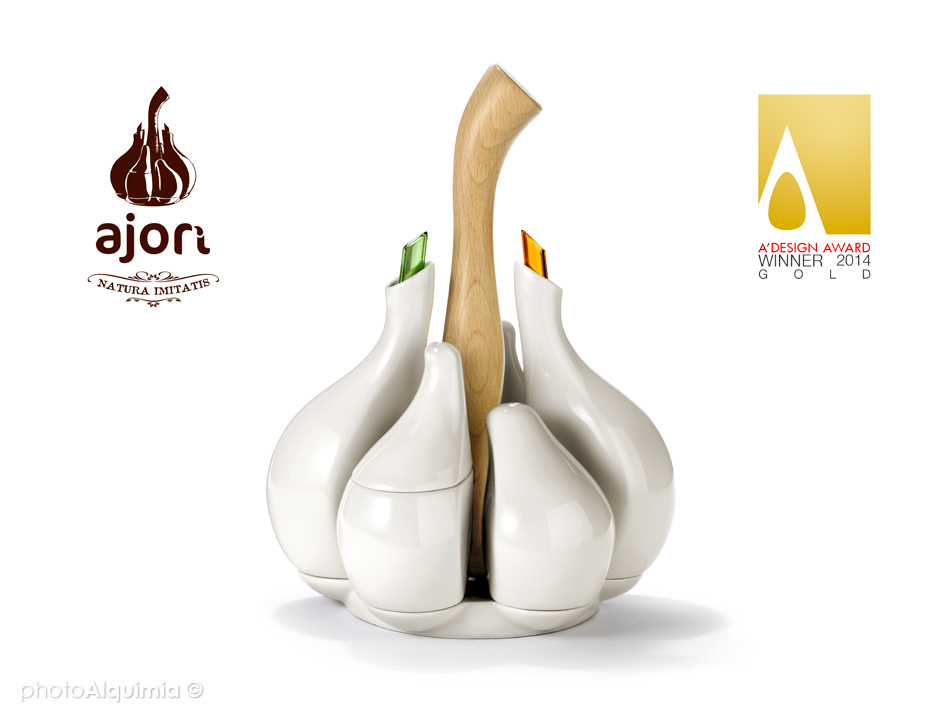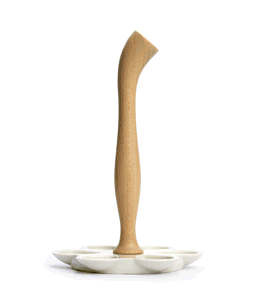 Inspiration
"We observed, peeled and cut several bulbs of purple garlic. We were impressed by the elegance of its lines defining each piece, the peculiar texture of its skin, and diversity of forms. In front of our eyes appeared a set of containers arranged on a tray, around a stem or handle. Considering the diversity of options in design that we wanted to propose, this one showed with total clarity, the functionality that we were looking for: a cruet in a form of garlic."
Video of the creative process of the first prototype
Process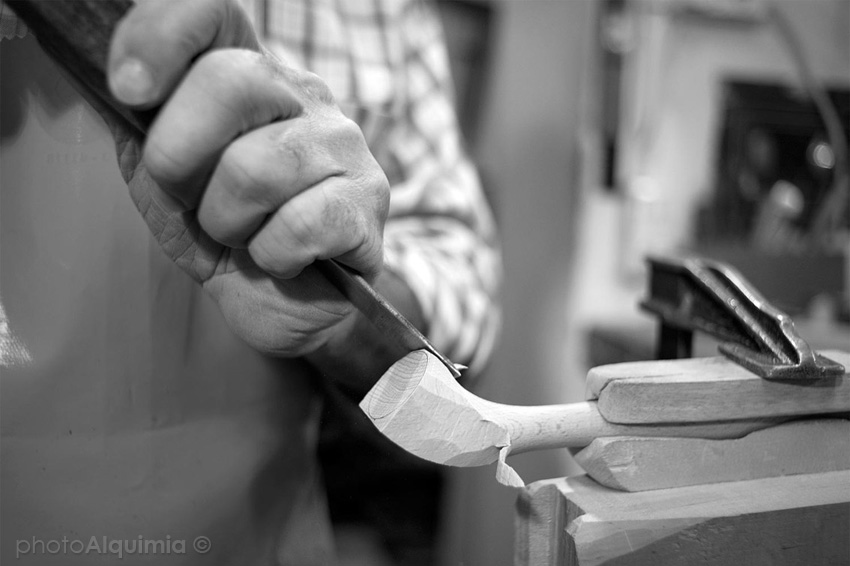 Eco Paclaging
Making of the first prototype
Ajorí is a creative solution for organize and store seasonings, spices and various culinary condiments, inspired by the elegant form of the bulb of garlic . This kitchen accessory holds six containers, designed to contain different products used for the seasoning of several dishes, adapting to the different culinary traditions of each country.
Ajori is the first project of a line of research of functional design entitled "NATURA IMITATIS", from the Latin, imitating nature. Created only with natural materials and using a mixture of industrial and artisanal processes, Ajorí is an eco-friendly product, respectful of our planet. The packaging is inspired by the skin of garlic and only natural and biodegradable materials are used for manufacturing.
Its elegant organic design, make it a sculptural piece, resulting of an excellent ornament to reflect and a conversation starter around a table, not to mention that by its garlic shape, it can be an excellent protector of our home or business against bad vibrations.
DESIGN COLLECTION

... comes from Latin and means imitating nature.
Throughout millions of years, nature has perfected its best designs to perpetuate a balanced life, by maintaining its rich diversity and expressing its beauty in all its creatures.
Man had not yet been born...
NATURA IMITATIS is a collection of designs inspired by nature and are charged with a special kind of energy that transforms them into live objects with an enchanting story to tell. A story that says something more than meets the eye. These soulful objects are made for those who feel the need to reconnect with nature, beauty and restore humane values.
Ajorí is part of this collection and has been created by skilled craftsmen who use natural materials. All pieces are recyclable and respectful with our environment.

AWARDS



| | Nomination Award by Shenzhen Global Design Award 2018 (SDA) |
| --- | --- |

| | Selected from Spain in "Industrial design / product" category by Bienal Iberoamericana de Diseño 2016 (BID_16) |
| --- | --- |

| | Selected as a Good Practice in "Spaces, products and services already in use" category, by International Design For All Foundation 2015. |
| --- | --- |

| | Golden A' Design Award Winner in Bakeware, Tableware, Drinkware and Cookware Design Category by A' Design Award and Competition 2014 |
| --- | --- |

| | First Price. Winner in the category of design applied to the crafts.Crafts of Castilla la Mancha Awards 2011 |
| --- | --- |

TECHNICAL DATA:

Ceramic. Porcelain 1400º off-white colour.
Glass. Anti-drip cannulas hand carved in borosilicate glass, green and topaz color.
Wood. Wooden handle carved in beechwood certificied PEFC.
Anti-stain treatment, touch of wood.
Platinum silicone. Plugs and gaskets.
Eco-Packaging for Gift. Handmade gift box with 100% recycled cardboard. Serigraphic hand printing.