Inspiration
"One day, in a meeting with some guest, we tasted an exquisite selection of varieties of olives with pit from various regions of Spain. Within a few minutes of the meeting, we witnessed an uncomfortable situation. Each of those present, seemed to search for the best solution to get rid of the olive pit ("tito"), observing in them all sorts of gestures Some of them deposited on a napkin in view of everyone, others thrown it to the ground, we even saw as some of them hid it discreetly in their pocket.
And it was at that precise instant, watching curiously an olive showing the pit in sight, when from source of the problem, the solution emerged to solve it. It was in this way that the inspiration for the design of TITOBOWL emerged."
Sketches
Titobowl
Process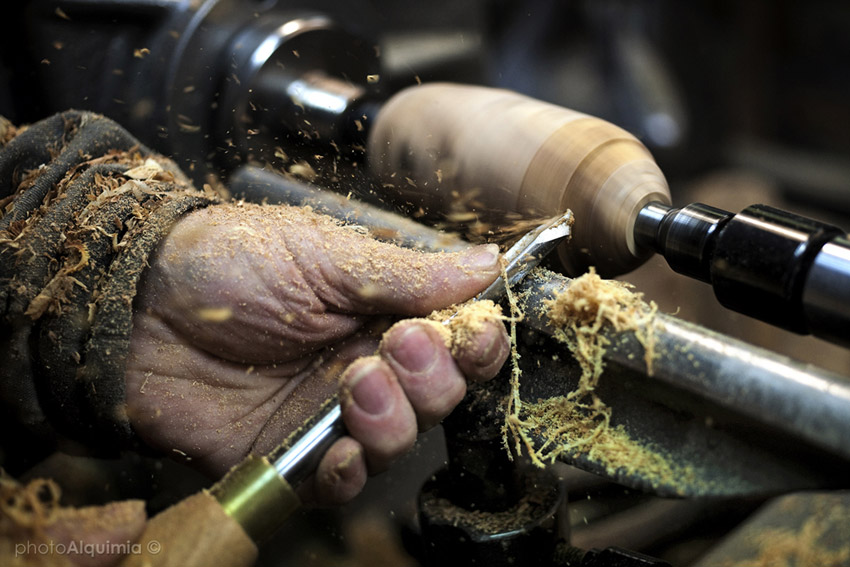 FRANCISCO TRECEÑO (ARTMADERA) Wood craftsman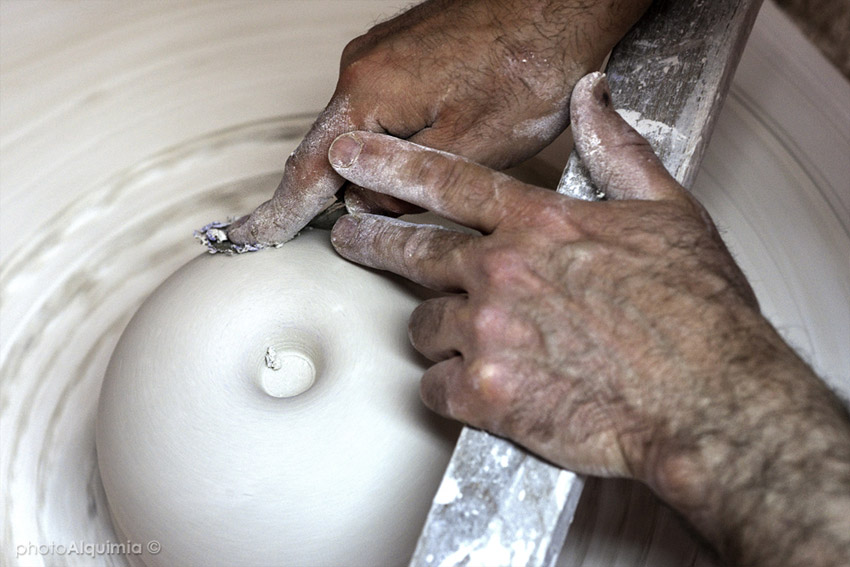 JUAN CARLOS (CENTRO CERÁMICO TALAVERANO) Ceramic craftsman
TITOBOWL is a vessel specially designed for tasting different varieties and dressings olives with pit, although it has been adapted for tasting pitted olives and other snacks because turning the top cap of the container, it becomes a toothpick holder.
For manufacturing it, we use stoneware and olive tree turned wood by hand, a mixture of a cold material with a warm one, attached to a painstaking craft production. Each TITOBOWL is signed and numbered by hand.
The packaging design is inspired by the image of a can of olives. This box is made by hand, entirely made of cardboard and recycled paper, making it a unique example of eco-packaging, fully respectful of the environment. To open the packaging, you must pull the pull-tab of cardboard, in the same way you would open a can of olives, so it also becomes an excellent gift object.
TITOBOWL is the second project for a line of eco-design functional, called "NATURA IMITATIS", from the Latin, imitating nature. For its particular design is an elegant sculptural piece when is not used, or an element that generates at the table a reflection on the logic of its form and function.
DESIGN COLLECTION

... comes from Latin and means imitating nature.
Throughout millions of years, nature has perfected its best designs to perpetuate a balanced life, by maintaining its rich diversity and expressing its beauty in all its creatures.
Man had not yet been born...
NATURA IMITATIS is a collection of designs inspired by nature and are charged with a special kind of energy that transforms them into live objects with an enchanting story to tell. A story that says something more than meets the eye. These soulful objects are made for those who feel the need to reconnect with nature, beauty and restore humane values.
Titobowl is part of this collection and has been created by skilled craftsmen who use natural materials. All pieces are recyclable and respectful with our environment.
AWARDS
| | Selected from Spain in "Industrial design / product" category by Bienal Iberoamericana de Diseño 2016 (BID_16) |
| --- | --- |
| | Selected as a Good Practice in "Spaces, products and services already in use" category, by International Design For All Foundation 2015. |
| --- | --- |
| | BronzeGoldenAward Winner in Bakeware, Tableware, Drinkware and Cookware Design Category by A' Design Award and Competition 2015 |
| --- | --- |
TECHNICAL DATA:
Ceramic.
Enameled stoneware.
Wood.
Artisanal turned olive wood. Protective treatment with linseed oil of first cold pressing
Eco-Packaging for Gift.
Handmade gift box with 100% recycled cardboard. Serigraphic printing.